Thread Rating:
Top 5 Turntables in India in 2017
04-20-2017, 11:24 AM,
Top 5 Turntables in India in 2017
Turntables are making a comeback for a multitude of reasons. There is something deeply fascinating about watching a record spin. Turntables produce deep, rich, sonorous notes; many audiophiles swear that they sound way better than other digital sources. Last but not the least, turntables possess an old world charm that your mp3 player just cannot match! Check out our list of the top 5 turntables in India in 2017.
1)
Clearaudio Concept Turntable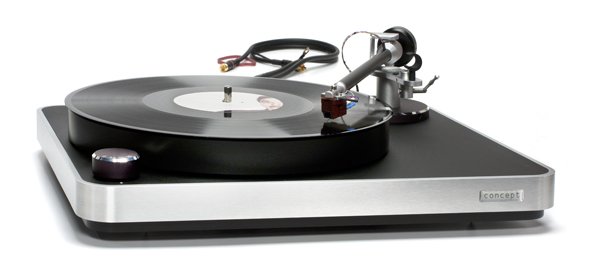 This record player is the recipient of several awards and it's undoubtedly the best turntable within its class. If you are in the market for a versatile, reliable record player with superior performance and astounding build quality, we suggest that you get the Clearaudio Concept in a jiffy! If you can afford it, that is.
Pros
: Phenomenal Sound Output, versatility, ease of use. 3 speed ranges: 33 1/3, 45 and 78 RPM. The fact that it is manufactured in Germany speaks volumes about its build quality. 
Cons
: Price tag might give you a heart attack! Costs more than 2 commuter bikes put together. Design is clean although a tad too simplistic for Indian tastes. 
Rating
: 9.5/10
Design & Construction
The Clearaudio Concept looks understated yet elegant; with its smooth, rounded edges and polished surfaces. It is sure to pique the curiosity of your friends, if such things matter to you. Weighing in at 7.5 kg, this record player appears substantial and planted. The intricate design of the arm lends it a distinct, esoteric appeal. 
The quality of construction is immaculate. You can't really go wrong with Teutonic engineering. The attention to detail is very evident in all aspects of the design. Clearaudio is very well aware of the needs and priorities of people belonging to the digital age. If you ask a teenager to fit a cartridge in a tonearm, they will give you a bewildered look for half a second and then go back to fiddling with their smartphone. Thus, in order to make the turntable more user friendly, it has been fully configured at the factory. There's no need to trifle with complicated settings – just plug it in and play. You can have a record playing within minutes of un-boxing the Clearaudio Concept. You do need to install the belt and platter; but you can do that, right?
Sound
One might assume that all this simplicity comes at the cost of performance and important features. But no, this is where the ingenuity of the manufacturer really impresses. The output is simply phenomenal! It does not have an overly weighty low end. The notes feel light, taut and deep at the same time. The detail is mind boggling. Once you listen to a record on the Clearaudio Concept, going back to your run-of-the-mill player feels empty and uninspiring. The whole experience of assembling and playing a record on the Concept is engaging without being too cumbersome. The bespoke friction free tone arm with magnetic bearing almost glides into place and envelopes you in musical heaven.
Final Verdict: What verdict? It's a no brainer! Buy it if you can afford it. 
Visit proaudiohome.com to learn more about the Clearaudio Concept Turntable
2)
Pro-Ject Essential II 2 Speed Turntable With Ortofon OM 5E Cartridge
Back in the 1980s, the world had already been bitten by the digital bug. Almost everybody was convinced that it was the end of the analog era. Turntable sales were dwindling. Only a minuscule group of die-hard audiophiles hung on to their record players and they too listened to them rarely. These were the 'purists' who dismissed that new age technnologies saying that digital music sounded lifeless.
In 1990, when the world was moving towards walk-mans and CD players, a man named Heinz Lichtenegger founded Pro-ject in the Austrian Capital of Vienna. He aspired to build a company that specialized in manufacturing high quality turntables for music connoisseurs. It was people like Heinz that kept analog music alive for all these years. Now, almost 3 decades later, the world has caught on with their vision. Turntables are 'in vogue' once again and the Pro-ject Essential II Turntable with Ortofon OM 5E cartridge is the best mid-range record player in the country.
Pros
: Dynamic sound, build quality, great cartridge, fairly easy to set up and use even though it's a manual.
Cons
: Nothing really, especially at this price. Not suitable for 78 rpm records but we're really nitpicking here. 
Rating
: 9.2/10
Design
The Essential II has a no-frills look. It has not been designed to attract attention. The focus is on performance and build quality. The turntable doesn't make the slightest attempt to impress visually. However, place a vinyl on it and it's a whole different story. 
This record player boasts of an 8.6 inch aluminum tonearm. The entire arm is crafted using a single piece of aluminum. The record player requires manual cueing and hence there is no automatic return mechanism. The counter weight, along with the support rod provide perfect alignment and balance. 
The star of the show, however, is the Ortofon OM 5E magnetic cartridge (mm). Ortofon is one of the most renowned turntable cartridge manufacturers in the world. Based in Denmark, it sells more than half a million cartridges per year. The OM 5E cartridge itself costs upwards of 7000 rupees in international markets. It is often referred to as the Rolls Royce of all cartridges within audiophile circles. However, unlike a Rolls, this one is fairly affordable. The cartridge is pre-fitted and configured at the factory for delivering optimal performance. The stylus is elliptical shaped and this results in a balanced, distortion-free output. 
This turntable is belt driven and runs at two speeds, namely 33 1/3 and 45 rpm. The synchronous motor is quiet and smooth. The ingenious design ensures that all resonance is transferred to the base of the tonearm, leaving behind only pristine notes. 
Sound
The Pro-ject Essential II does not have the detail of the Clearaudio Concept, which is not a surprise since it is priced at about a fourth of the latter. What it does possess, however, is a good rhythm and superb dynamics. The notes are punchy, clear and entertaining. It is difficult to find such composure and refinement in a turntable within this price bracket. 
Verdict: 
If you want a record player that offers precision and performance without breaking the bank, look no further than the Project Essential II. The Ortofon OM 5E Cartridge is the perfect match for this highly capable turntable. 
Visit proaudiohome.com to learn more about the Pro-ject Essential II 
3) 
Pro-ject Elemental with Ortofon OM 5E Cartridge
The Pro-ject Elemental is offered as an entry level package. It earns a lot of brownie points owing to its unique design and plug n play nature. 
Pros
: This fabulous looking turntable possesses all the desirable traits of a Pro-ject product. It is extremely well made and offers great value for money. It is cleverly engineered and produces a seamless and engaging sound. 
Cons
: There's no way to level the deck and so this record player needs careful placement. Also, there's no lid. 
Rating
: 9/10
Design
Instead of having a squarish deck like most other record players, the Elemental has an elongated deck, which has been crafted from a single piece of wood. On the underside, there's an artificial stone base to lend solidity to the entire structure. The DC motor, main bearing and the tonearm are all placed inline for added smoothness. The heavy base soaks up any noise that may be generated by the plinth and the motor. 
This record player is literally 'plug n play'. It comes with the highly acclaimed Ortofon OM 5E Cartridge and eveything, including the tracking weight and bias force, is pre-configured at the factory. You just need to remove the bearing guard and slide the belt into place. 
Sound
The detailing, live emotion and the large sound-stage make you forget that you are listening to an entry level turntable. The bass is agile and the vocals are balanced. The player is not bogged down by multiple layers of instruments – it deals with them with scintillating composure. 
Final Verdict: The Pro-ject Elemental with Ortofon OM 5E Cartridge does not possess the authority of high end record players. However, it redefines what an 'entry level' turntable can do. The Elemental sounds a lot like the death knell for cheap, plastic turntables. 
4) 
Audio-Technica AT-LP60-BT
Audio-Technica is one of the most trusted names in the audio industry. Let us take a closer look at their offering. 
Pros
: This turntable can be paired with Bluetooth speakers. It blends long-play records with modern Bluetooth technology which is sort of cool in an anti-climatic way! You can also connect it using wires. Compact size, fairly affordable price tag, decent performance, warm and melodious notes. All in all a good, well-rounded package with the convenience of BT.
Cons
: Subjective looks. The pairing process is complicated and tiring,  
Rating
: 8.1/10
Design
The design of the AT-LP60-BT incorporates many convenient features such as automatic start and return and a button that raises and lowers the needle. Everything is pretty self-explanatory. There is a start button, a stop button, a button to choose speed and a lever that switches between record sizes. This tells the arm where to place the needle. There's also an LED switch that activates/deactivates Bluetooth. There is no option of adjusting the tracking force – this is good if you are a beginner and don't want to meddle too much with calibration settings. 
The AT-LP60-BT is very easy to use. There no 'set-up' per se. Just install the belt, remove the plastic stylus guard and you are ready to roll. The turntable is compact in size and weighs in at just 2.98 kg. However, the plastic cover feels a bit tacky. There's no questioning the player's build quality though – it's pretty solid and comes with a built in phono-stage. 
The tonearm is made up of a single metallic tube with a plastic counterweight and a moving magnet cartridge with a diamond stylus. The only problem with this turntable is pairing. There is no BT screen and it is highly probably that your speakers don't have a screen either. So you have to rely on various colored flashing lights to get the pairing done successfully. You will have to actually refer the manual for this, but once it's done, you can forget about it and start streaming. 
Sound
The sound output depends on two major factors: The quality of your vinyl and the capability of your speakers. The stylus of the AT-LP60-BT transmits low frequencies very well. However, if you pair it to a speaker that does not have produce substantial bass, you'll be missing out. Similarly, if you vinyl is old and damaged, a good speaker won't help much. Considering that your vinyl is in good condition and your speakers are suitable for the music that you're playing, the sound is smooth and clean. The bass response feels natural. Instrument separation is impresive and the highs are crisp.  
Verdict: Coupled with the right equipment, the  AT-LP60-BT produces an immersive musical experience. It is ludicrously easy to setup and use (barrring the pairing process). BT is an added retro-modern bonus! 
Learn more 
...
5) 
Jensen JTA-230 Three Speed Turntable With Built in Speakers
There was a lot of pushing, shoving and jostling for this last spot in our list. Find out why the JTA-230 made the cut. 
Pros
: It's very suitable for listening to vinyls in a home setting. Capable record player with a mouthwatering price tag. Runs at all three speeds (33 1/3, 45 and 78 rpm).
Cons
: It's not particularly sturdy. 
Rating
: 7.5/10
Design
The design is fairly straightforward. There's a lid, buttons for start/stop, speed etc. The player is also equipped with an AUX input jack that can be used for connecting mp3 players, iPods etc. The package includes a USB cable and software that facilitates direct encoding from the record player or AUX input to PC.
This turntable has a ceramic cartridge, which costs lesser than magnetic ones. However, a ceramic cartridge is not necessarily a bad thing, at least in this case. Ceramic cartridges are less sensitive to vibrations. So if this turntable would have been equipped with a magnetic cartridge, the output would've been noisier because of the vibration caused by the built in speakers. You can also connect to external speakers or home theaters. 
There is also am RPM micro adjustment feature. The product was originally designed for the US. As you may know, there's a difference between the standard electricity voltage between India and US and this causes slight alterations in the rotating speed even after stepping down to 110 V. The micro adjustment feature enables you to extract the exact number of RPMs depending upon the vinyl.
Note: You need to purchase a separate needle for 78 rpm. 
Sound: 
Considering the price, the quality of sound is surprisingly good. It is comparable to that of a 2 in 1 cassette player. So don't expect top notch performance. The Jensen JTA-230 functions best with the built in speakers. If you connect to external amps/speakers, output MAY suffer a little bit if there's a mismatch in impedance. 
Final Verdict: If you have a few oldies lying around, the Jensen JTA-230 can envelope you in a wave of nostalgia without burning a hole in your pocket. It's reliable and fairly durable too, as long as you handle it with care.  
Learn more
...
I hope that you liked the list of the top 5 turntables in India. Please let post your comments below and let me know what you think
Users browsing this thread: 1 Guest(s)